Staff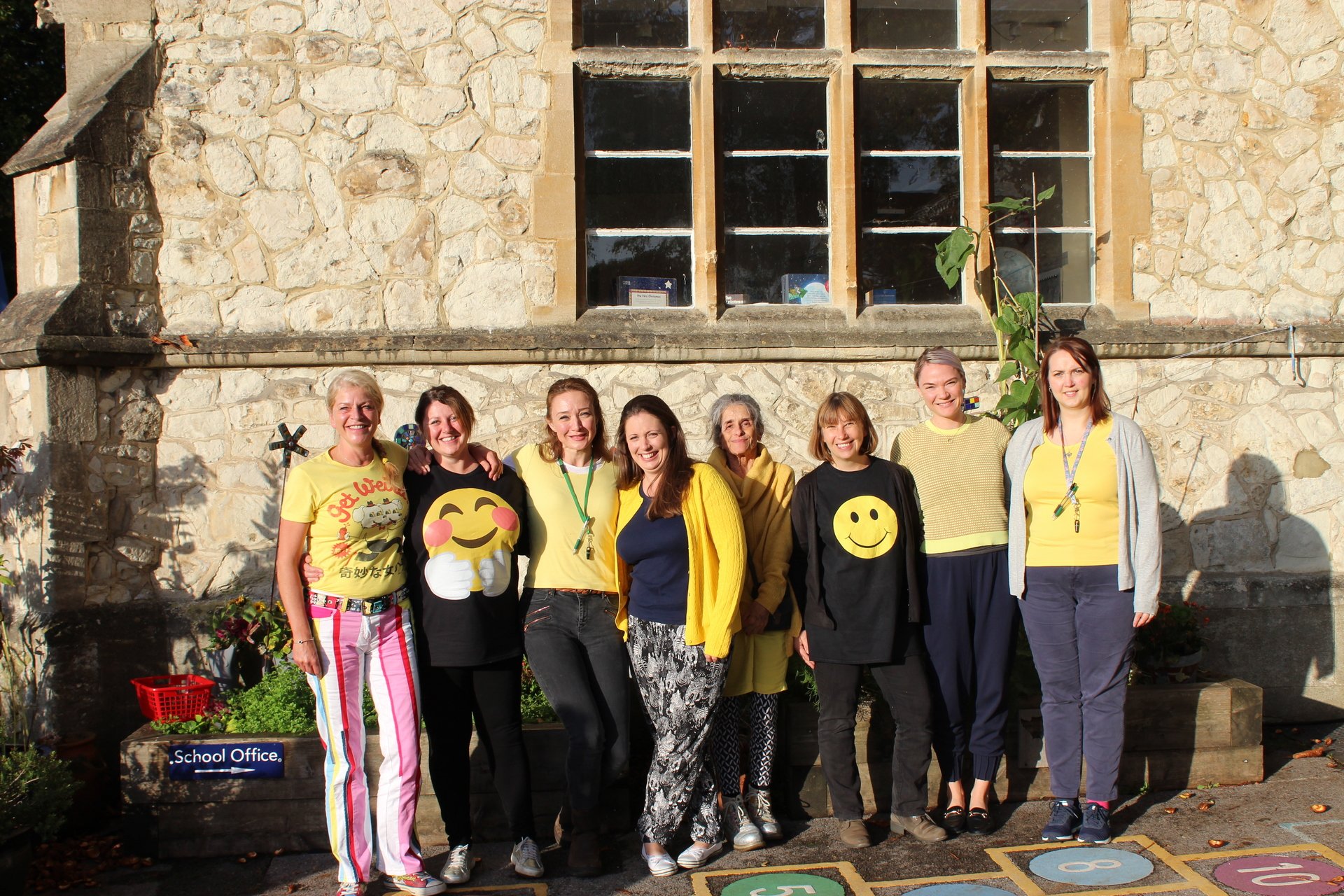 St. Andrew's Team wearing yellow for Mental Health Day.
Track Title: Song of Blessing
Jayne Venables - Executive Headteacher

I have been associated with St. Andrew's Infant school since 2008 when I first started working at the school as Kingfisher Class teacher, and then becoming the Headteacher at the school in 2011. I became the Headteacher at Potters Gate Primary School in April 2015 and it is so exciting to be working with both schools currently.

When I am not working at Potters Gate Primary or St. Andrew's I like to spend time walking with my lovely Working Cocker Spaniel, Jasper and out in my garden. I have chickens which help with my other passion which is cooking. When I find quiet time I like to knit and read. I live in Farnham with my two teenage children.

Carol Trottier - Executive Deputy Headteacher

Having lived in Farnham for 23 years I feel very fortunate to live in such a wonderful town. Since 2009 I have been teaching in Farnham schools and now have the privilege of working with wonderful colleagues and children at both Potters Gate and St Andrew's.

I have three teenage daughters and one very cute guinea pig called Lily. As a family we love travelling, walking, cooking and generally just being together!

Catherine Floyd - Assistant Headteacher & Owl Class Teacher Year 1 - (job share)

I have been very lucky to have lived and worked Farnham for over 20 years. With six children life is joyfully chaotic and has little space for a peaceful moment, but I thrive on the challenges that this brings. My family have enjoyed the rich opportunities that Farnham offers and have been involved in many of the clubs and organisations in the town. We try to support our community whenever we can, especially through our commitment to scouting in Farnham. My approach to teaching supports my belief that each child deserves a holistic and enriched learning experience, allowing them to develop as well rounded happy children with a passion for lifelong learning. Working with everyone at Potters Gate School and St. Andrews has been a pleasure and I look forward to the future with excitement.

Alexis Carpenter - SENDCo & Assistant Headteacher

Farnham has been my home for over 35 years and I love being part of the local community. I have been fortunate to have attended and taught in some of the best schools in the area. My own schooling started in Seale village school which had many similarities to St. Andrew's. Teaching runs in my family so it was inevitable that I decided this was the career for me. I first started teaching in a primary school in Dorking but after a few years there I decided I wanted to be back teaching in Farnham. I spent over 15 years in a small village infant school just off the Hog's Back. I have many happy memories of my time there such as teaching Maypole dancing to the children and putting on productions and events for the parents and the local community.

I am thoroughly enjoying my role as SENDCo and Assistant Head at Potters Gate and am very excited to be part of the St. Andrew's team in these roles.

Bonnie Lloyd - Robin Class Teacher - Year R

I am the Reception Class Teacher here at St Andrews and also the Leader of Early Years across St Andrew's and Potters Gate School. With 20 years of teaching experience and three children of my own, I am passionate about providing an inspiring curriculum which enables all children to reach their full potential. I absolutely love working in a small nurturing environment with a great team of people, who feel like a family.

Helen Ruocco - Kingfisher Teacher - Year 2

Hello, my name is Helen Ruocco and I started working at St Andrews in November 2018. I live in Hindhead with my husband and we love spending time at the Devil's Punchbowl, walking, cycling and running.

The community feel at St Andrews is wonderful and I'm excited about what the year ahead will bring!

When I'm not working I enjoy reading or exercising. I also love spending my spare time with my large family and many nieces and nephews.

Amy Robertson - Owl Class Teacher Year 1 - (job share)

Hello everyone, my name is Amy Robertson and I am very excited to be part of the St Andrews team. I love the community feel and can not wait to see what the next year will bring! Farnham is my hometown, and I really enjoyed growing up here! I feel very fortunate to be able to work in such a lovely community! When I'm not teaching, I'm having great fun with family, spending many hours and weekends out and about with my little boy and husband. I also enjoy being around horses, and am very excited to be getting to know the new addition to the family, my mums horse, Mickey!

Sarah Scott Brown - Special Needs Assistant

Hello, my name is Sarah Scott Brown, I moved to Farnham in 2007 and started working at
St Andrews as a Teaching Assistant in reception just as my son Archie left the school a couple of years later.

I have now worked my way through all the years and am currently an Special Needs Assistant in year 2 and I feel very lucky to work at this wonderful school.

When I am not at work I really enjoy spending time with my husband James walking Ted our Labradoodle. I have two sons Joe and Archie and also a ginger cat called Wilf.





Sarah Wilkins - Kingfisher Class Teaching Assistant

Hello, my name is Sarah Wilkins and I've been working at St. Andrew's School since 2007. At the moment, I spend my time in Kingfisher class in my role as Teaching Assistant. I joined the school when my own children were finishing their time at St. Andrew's, and am now proud to be a part of the team that provided them with such a great start to their learning.

Away from school, I love spending time with my family, 'encouraging' my children to do their homework and struggling through my own (yes, I'm still studying too!) When our work is done, we enjoy walking, reading and an annual trip to France in search of the sun!

Isabel Edward - Kingfisher Class Learning Support Assistant + Owl Class Teaching Assistant + Midday Supervisor

Hi Everyone!

My name is Isabel and I have three grown up sons. I work in both Owls and Kingfisher Class. At lunch time I encourage the children to play games together, and teach them how to share and look after our play equipment.

In my spare time I sew bags and knit hats and fingerless gloves.

I love my job and can't see myself ever doing anything else.

Rachael Bartlett - Robin Class Teaching Assistant

Hello, my name is Rachael Bartlett. I joined St Andrew 's in 2015 and I work in Robin class and study alongside my job.
I love working at St Andrew's because it is such a friendly, happy and nurturing school. The children are a joy to work with and no two days are the same.
I have three children and a very mischievous cat. We like to explore the countryside and visit interesting places. When I have free time, I love to be creative, cook and socialise with friends.
Claire Byus - Learning Support Assistant

Hello – my name is Claire Byus and I have been a teacher for over 20 years at a number of different schools in Farnham, where I have taught children from Reception to Year 6. Having been a class teacher at St Andrew's for 6 years, mainly in Years 1 and 2, I left in July 2018 to become a foster carer.

I am now privileged to be able to combine my foster carer role with that of a Learning Support Assistant in Kingfisher Class. St Andrew's is a very special school with a happy, caring and friendly atmosphere – I feel part of its extended family and am excited to be back at a place that I never really left.

I have two grown-up sons who live in London. I enjoy reading, gardening and knitting (particularly socks). I also sing in a local choir.




Jenny Binks - Business Manager

I have been working as a School Business Manager at Potters Gate since 2013 and was delighted to take over the role at St Andrews in February 2018 as the two schools started to work more closely together. Both schools have a lovely feel about them and I love the strong links with the community.

When I am not busy at Potters Gate or St Andrews I enjoy spending time with my two children. I am also a keen horse rider.

Jacoba Murray - Office Manager

Hello, my name is Jacoba Murray-van der Tuuk (Dutch) but at school I am called Jacoba Murray to make it easier for everyone.

I have worked at St. Andrew's School since January 2005, initially I worked as Teaching Assistant in Swallow Class and then in Robin Class.

Some years ago I moved to the office where I really found my niche.

Although my immediate family, a super husband and two lovely sons, (my oldest is a RAF Pilot Officer and my youngest is studying Musical Theatre at Arts Ed), are the biggest love of my life, I see St. Andrew's School and its people as my extended home and family.

What I like best about the school is that each person is treated as an individual and is encouraged to be themselves.

Outside my school hours I am also a co-owner of the coffee shop 'Coffee Diem' in the Lion & Lamb Yard.

Audrey Sturch - Senior Midday Supervisor

Hello, my name is Audrey Sturch. I started work at St. Andrew's School in April 2001 as a Midday Supervisor, I am now a Senior Midday Supervisor since 2006.

Four of my five sons went to St. Andrew's School and loved it.

I love coming into school at lunch time and working with my team and all the children. I am always there to help them with first aid and other problems. The children always make me SMILE.

Bonita Bales - Midday Supervisor

I have worked at St. Andrew's School since June 2013. Before that I was studying for my NVQ level 2 Childcare Learn & Development and I am currently studying for my Teaching Assistant Level 3. I have two children, Megan and Nathaniel who were both pupils of St. Andrew's School. We have three cats Iggy, Ziggy and Tiggy and I live in Wrecclesham.

Linda Burchett-Vass - Midday Supervisor

Hello, my name is Linda Burchett-Vass, I am married with 2 grown up children whom both came to St.Andrew's School and 2 grandsons, Harry and Adam who also have been here.


I love Disney and went to Florida for the first time in 2012 and had a fantastic time.

Riffat Nazir- Midday Supervisor

My name is Riffat Nazir. I work as a Midday Supervisor at St. Andrew's School since September 2016.

I love working here because I like this school very much. I have two children, one of them used to go to St. Andrew's School and loved it.
In my free time, l love cooking, reading books and spending time with my family.

Sally Raitt - Cook

My name is Sally Raitt, I am the cook at St. Andrew's Infant School. I started working here in 2000 when my daughter started in Reception. I have seen many changes over the years, our kitchen has been updated and I can fully prepare the school lunches in the new kitchen. In my spare time I enjoy painting and of course cooking.

Melvin Antonio - Caretaker

My name is Melvin Antonio, I am from the Philippines and have lived since 2005 in England and am now a British Citizen. I have worked at St. Andrew's School since 2006. I work in the mornings at Potters Gate and late afternoons as a Caretaker at St. Andrew's School.

In between my two shifts I work as a gardener. I love eating a bagel in the mornings before coming to work, I also eat a lot of fruit, especially mangos, apples and grapes whilst watching the news on my computer at home.

In the Philippines I studied and qualified as a B.S. in Criminology.