SEND
Special Educational Needs Policy (GST)
Well Being & Mental Health Policy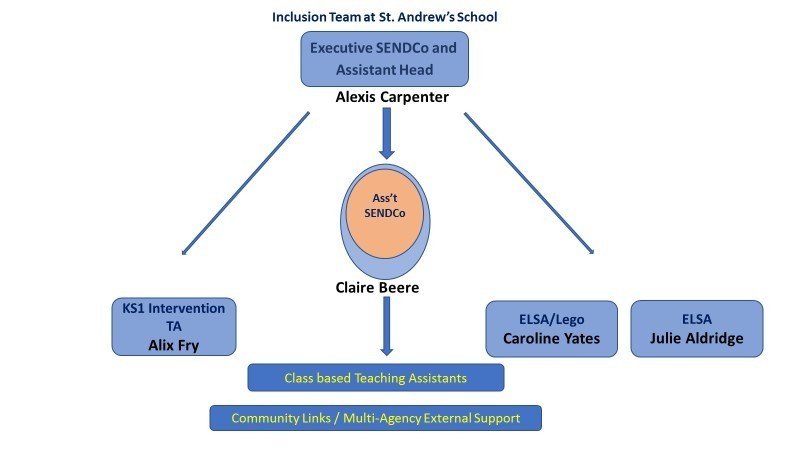 Mrs Beere is currently working three days a week as my Assistant SENDCo across both schools.
First and foremost, your child's class teacher is responsible for ensuring your child's needs are met and for keeping you up to date in terms of progress. All parents are invited to attend parents evenings and at these meetings the class teacher will share with you a provision map outlining any additional support your child may be getting. You are welcome to have a copy, please just ask your teacher. You are of course welcome to discuss your child's progress at any time in the year. If you would like to see your child's teacher, please do call the office to arrange a time.
For SEN children, either Mrs Beere or myself will carry out regular observations and meetings with you and with the class teacher. Mrs Beere will be continuing her drop-in sessions in her Assistant SENDCo role, should you wish to speak to her.
The drop in sessions are usual at the end of each month.
There is an SEND parent support group who meet the last Wednesday morning of the month at the Potters Gate Children's Centre. It is run by Joanna Elliott and local Farnham parents are welcome to drop in between 9.30 and 11.30am.
Mrs Julie Aldridge our ELSA (Emotional Literacy Support Assistant) works two afternoons a week. She works closely alongside the two ELSA's from Potters Gate, giving emotional support to any children in school. Caroline Yates also provides some sessions and also does an afternoon of Lego construction, which develops social skills and language.
As well as emotional support, the children access additional learning support through interventions which are being delivered in class with the TAs and out of class with Alix Fry. Mrs Fry is a KS1 intervention TA and sees children who have been identified as needing additional support in areas such as reading, phonics, writing and maths. Mrs Fry is also in class as a TA one afternoon a week.
Should you wish to discuss the progress of your child in these interventions then the drop-in session with Mrs Beere is a valuable opportunity to meet with them both.
If you have questions or would like to meet, then please do not hesitate to contact me.
Alexis Carpenter
Executive SENDCo
Alexis Carpenter – senco@potters-gate.surrey.sch.uk 01252 715619
Claire Beere – assistsenco@potters-gate.surrey.sch.uk 01252 715619