PTA 2018-2019
Chair: Fiona Atherton
Vice-Chair: Sam Powell
Treasurer: David Harriman
Secretary: Alix Fry
Class Reps: 2018-2019
| | | |
| --- | --- | --- |
| Robins | Owls | Kingfishers |
| Vishaka | Deonne | Charlotte |
| Gemma | Janet | Ruth |
| Katy | Nikki | |
| Parichat | Sally | |
| Collette | | |
| Chloe | | |
| Lindsey | | |
Hello and welcome to the PTA page.
As a parent of a child attending St Andrew's automatically become a member of the Parent Teacher Association (PTA). The PTA works to encourage closer links between home and school, organise social events for both parents and pupils, and raise money for our lovely school. We welcome all participation – from baking cakes, manning stalls, coming up with new fundraising ideas or just shouting announcements in the playground - there's always room for more volunteers!
We organise events throughout the year for parents and children. In the last academic year our PTA raised £20,000, with an overall profit of £13,000 – an incredible amount for a small school. The money we raise is for those little – and sometimes big! - extra things that help make learning fascinating and fun. Thank you to everyone who organised and attended our events, and with your help we hope to raise a similar amount this year.
LATEST NEWS
This year, £1,300 of the money raised this year will be allocated to visualisers.
From our fund the school has spent £10,000 on installing a trim trail in the bottom playground in 2016-2017.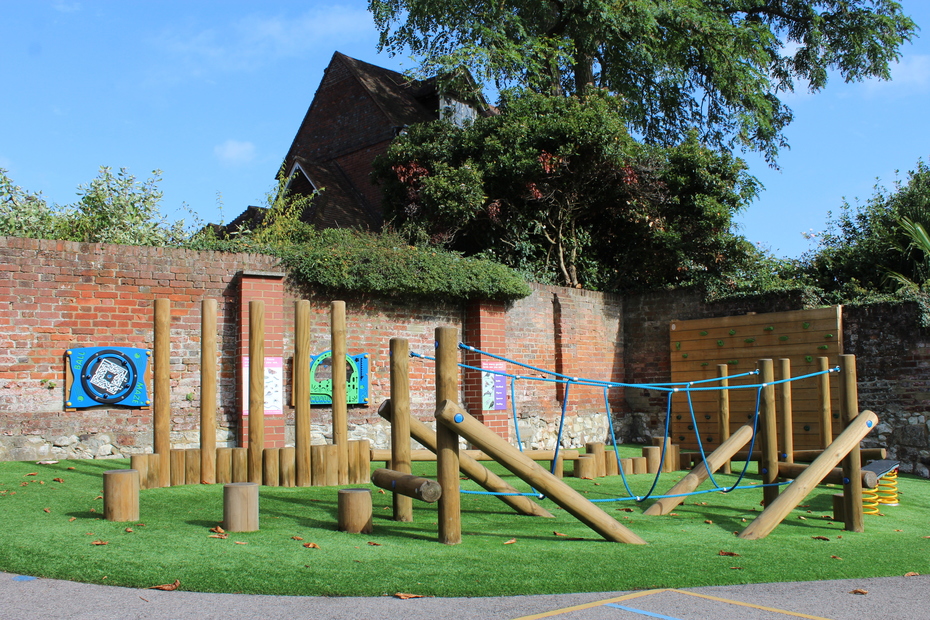 £13,000 was spent on play and learning equipment, a sound recorder and headphones, 2 urns, a Santa outfit, visit to a local fish restaurant, blinds for the hall and classroom touch screens and a mobile app for parents.
HOW WE FUNDRAISE
Our three main fundraising events are the Spring Fayre and Christmas Fayre which together brought in almost £6,000 last year, and the Farnham Charity Bike Ride for which we will receive £10,000.
We are especially proud of our on-going relationship with Farnham Round Table, our partner in organising the Farnham Charity Bike Ride. It is our biggest single fundraiser and in 2016 raised £6,000 for the school – in just one day! The event also supports other local and national charities.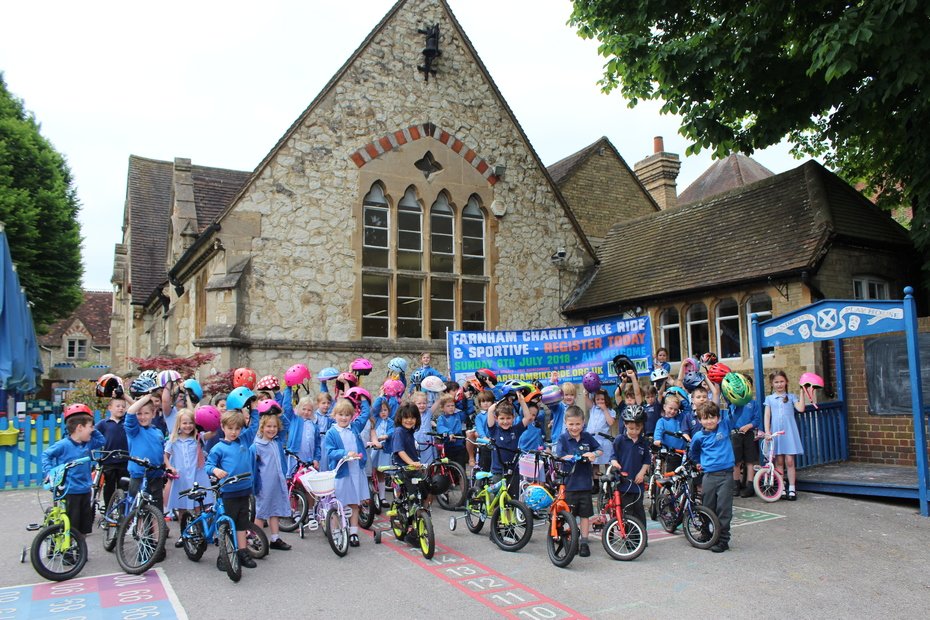 The Farnham Charity Bike Ride was established by St. Andrew's parents in 2009, and has grown each year to become a fantastic community event, which attracts cyclists from across the region. In 2017 there were 1475 registered riders of all ages and abilities (the biggest ride yet!). In the lead up to the event St. Andrew's parents attend meetings with Farnham Round Table to discuss and organise logistics, which include online registration, liaison with the event sponsors, route planning and publicity.
On the day St. Andrew's parents and teachers help out with marshalling the route, rider registration, or help out at the refreshment stops. Or you can take part! Get on your bike, maybe set up a cycling team with friends, and support St. Andrew's through sponsorship.
If you would like to get involved with 2019's event (Sunday 7th July) then we would love to hear from you. You can also keep up to date with details via the event's website http://www.farnhambikeride.org.uk/
You can LIKE their Facebook page https://www.facebook.com/FarnhamCharityBikeRide
And follow them on Twitter! @farnhambikeride
For more up to date information on the Farnham Charity Bike Ride please click here.
Last year our other fundraising activities included the school's Sponsored Bounce (which raised £1,800!), second hand uniform sales, ice-cream sales and the Bag2School scheme, which encourages parents to recycle their unwanted clothes and textiles.
The PTA also help out in putting together the school's float for the Farnham Carnival.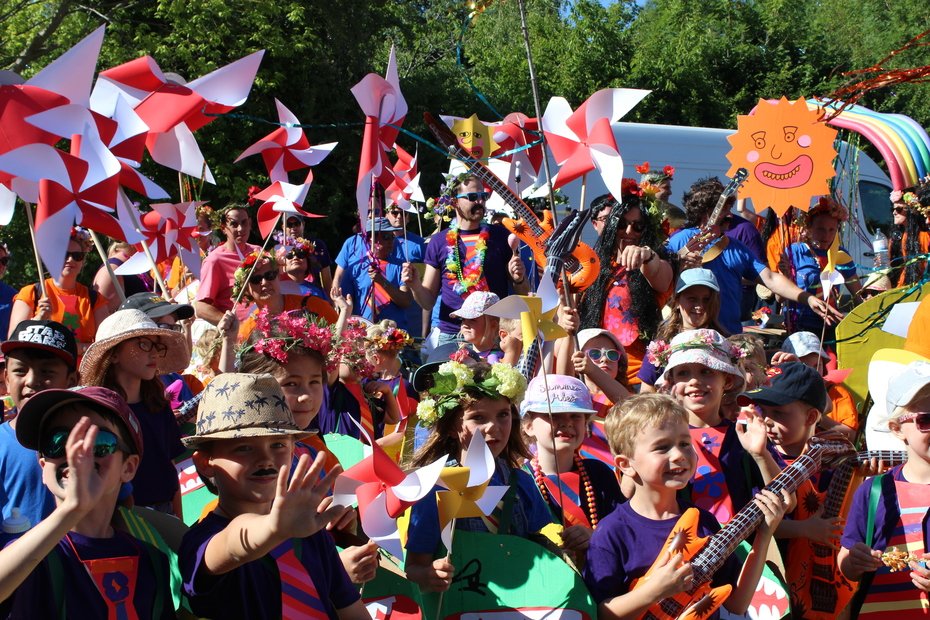 The St Andrew's team have been very successful over the past few years and we are looking for parents to get involved in creating 2019's entry, the carnival will take place on Saturday 29th June 2019.
EVENTS FOR 2018-2019
PTA- Annual General Meeting - 25th September 2018
Whole School Cake Sale - Harvest Assembly - 3rd October 2018
Allotment Ground Force Day - 7th October 2018
Farnham Fireworks - 3rd November 2018
Robin Cake Sale - St. Andrew's Assembly - 8th November 2018
Real Ale Train trip - 24th November 2018
New Library Grand Opening - 23rd November 2018
Bag2School - 28th November 2018
Christmas Mufti Day - 30th November 2018
Christmas Fayre - 1st December 2018
Quiz Night - 6th December 2018
Christmas Play - 10th December 2018
Christmas Play - 11th December 2018
Farnham Round Table Santa Sleigh - 13th December 2018
Childrens' Pizza & Film Night - 18th January 2019
Children's Disco - 8th March 2019
Sponsored Bounce - 15th March 2019
Kingfisher Cake Sale - Mother's Day Assembly - 27th March 2019
Owl Cake Sale - Easter Service - 4th April 2019
Easter Egg Hunt - 5th April 2019
Mufti Day - 10th May 2019
Spring Fair - SUNDAY 12th May 2019
Camping Weekend - 14th - 16th June 2019
Bag2School - 18th June 2019
Farnham Carnival - Sat 29th June 2019
****Farnham Charity Bike Ride - Sun 7th July 2019***
Year 2 Leavers' Assembly - 18th July 2019 at 9.15
Parents & Carers end of year Party - TBA
To get in touch with the PTA or if you have any great fundraising ideas, we would love to hear from you.
Please contact us in the playground or via info@standrews-infant.surrey.sch.uk
Sponsored Bounce 2018
Please click on picture below for a BOUNCY & NOISY video.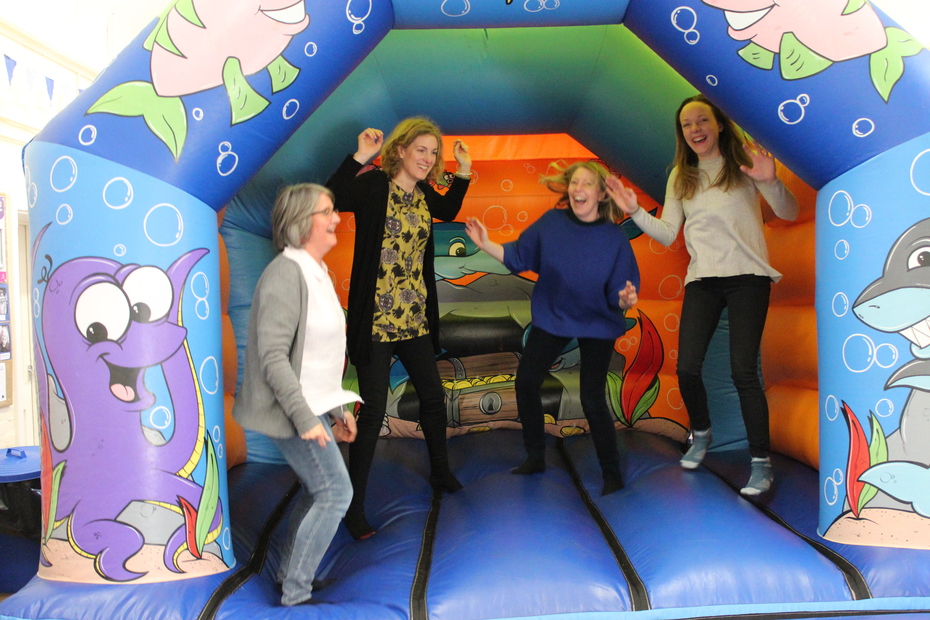 The PTA organised the yearly Sponsored Bounce, the children ask family and friends to sponsor them for each bounce they do on the Bouncy Castle in one minute. It is always a very popular event and raises a lot of money for the PTA. THANK YOU TO THE SPONSORED BOUNCE HELPERS AND TO ALL SPONSORS AND OF COURSE THE PTA.
Sponsored Bounce winners 2018
1 boy and 1 girl from each class