Sporting News
(Sporting and Healthy Activities)
NOVEMBER 2019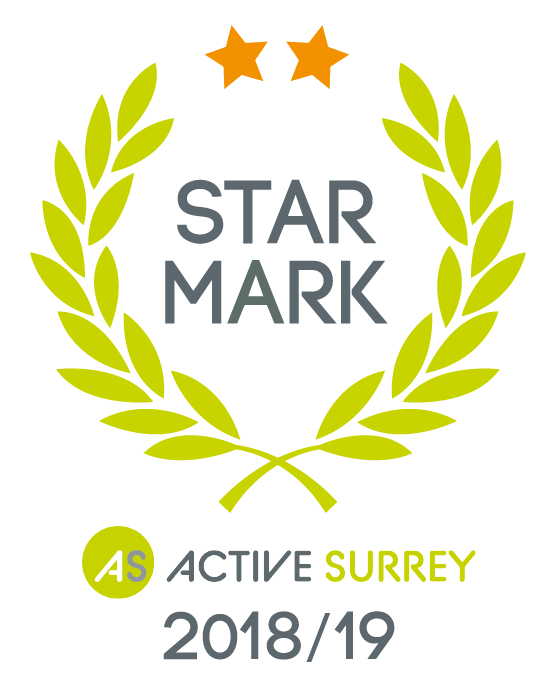 The 'Active Surrey Star Mark' allows schools to further develop their provision and achieve recognition for their achievements in PE, sport and physical activity.
We are pleased to announce that St. Andrew's School was awarded the '2 Star Mark' in recognition of improving our sporting commitment, engagement and provision.
FIRST STEPS TO LEADERSHIP YEAR 2 SPORTS LEADERS
8 children from Kingfisher class traveled to Guildford Spectrum to take part in a Sports Leader course.
The children were taught lots of new games to play in the playground and learnt how they were all about personal challenge and not necessarily about being the winner.
We were lucky enough to bring some fantastic resources back to school and the children are going to take turns at break times to facilitate some of the games with all the other children of St. Andrew's.
It was a fantastic morning, with all children taking part and representing St. Andrew's beautifully.
We are very lucky that St. Andrew's pupils have the opportunity to experience the benefits of Forest School at Potters Gate. During half-termly blocks, the children develop skills in a wide range of activities including fire lighting, cooking, tool work, den building , games and craft. This time is it Kingfisher Class' turn.
The sessions aim to promote the holistic development of all those involved, fostering resilient, confident, independent and creative learners. It offers the children the opportunity to take supported risks appropriate to the environment and to themselves. It also supports our Christian values and our school learning skills.