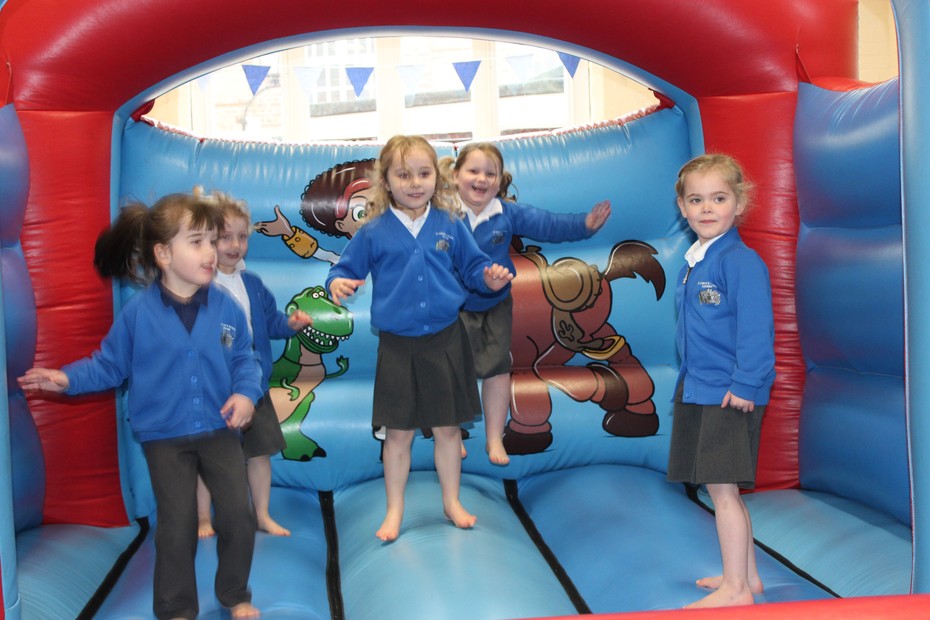 PTA T 2017-2018
(update coming soon)
Class Reps: 2017-2018
Hello and welcome to the PTA page.
As a parent of a child attending St Andrew's automatically become a member of the Parent Teacher Association (PTA). The PTA works to encourage closer links between home and school, organise social events for both parents and pupils, and raise money for our lovely school. We welcome all participation – from baking cakes, manning stalls, coming up with new fundraising ideas or just shouting announcements in the playground - there's always room for more volunteers!
We organise events throughout the year for parents and children. In the last academic year (2013/14) our PTA raised £25,000, with an overall profit of £18,000 – an incredible amount for a small school. The money we raise is for those little – and sometimes big! - extra things that help make learning fascinating and fun. Thank you to everyone who organised and attended our events, and with your help we hope to raise another £25,000 this year.
LATEST NEWS
This year, £18,500 of the money raised will be allocated to the learning pads and new equipment for the middle playground which were purchased over the summer (£10,000 and £8,500 respectively). The children are thoroughly enjoying the new musical equipment and colourful tarmac!
From our profits for 2013-14 the school has spent £21,402 on completely renovating the top playground, and adding the astro turf around the climbing frame in the bottom playground.
£1,300 of funds raised was also spent on the new canopies outside Robin and Swallow classes, which has enabled all the children to enjoy a happier playtime, protected from the elements all year round.
HOW WE FUNDRAISE
Our three main fundraising events are the Spring Fayre and Christmas Fayre which together brought in almost £12,000 last year, and the Farnham Charity Bike Ride.
We are especially proud of our on-going relationship with Farnham Round Table, our partner in organising the Farnham Charity Bike Ride. It is our biggest single fundraiser and in 2014 raised over £5,000 for the school – in just one day! The event also supports other local and national charities.
The Farnham Charity Bike Ride was established by St. Andrew's parents in 2009, and has grown each year to become a fantastic community event, which attracts cyclists from across the region. In 2014 there were 985 registered riders of all ages and abilities (the biggest ride yet!). In the lead up to the event St. Andrew's parents attend meetings with Farnham Round Table to discuss and organise logistics, which include online registration, liaison with the event sponsors (East Street Cycles, Brasserie Blanc, The Herald and Nuffield Health), route planning, and publicity.
On the day St. Andrew's parents and teachers help out with marshalling the route, rider registration, or help out at the refreshment stops. Or you can take part! Get on your bike, maybe set up a cycling team with friends, and support St. Andrew's through sponsorship.
If you would like to get involved with 2015's event (Sunday 5th July) then we would love to hear from you. You can also keep up to date with details via the event's website http://www.farnhambikeride.org.uk/
You can LIKE our Facebook page https://www.facebook.com/FarnhamCharityBikeRide
And follow us on Twitter! @farnhambikeride
Last year our other fundraising activities included the school's Sponsored Bounce (which raised £2,700!), the Buzz Book, second hand clothes sales, and the Bag2School scheme, which encourages parents to recycle their unwanted clothes and textiles.
The PTA also help out in putting together the school's float for the Farnham Carnival. The St Andrew's team have been very successful over the past few years and we are looking for parents to get involved in creating 2015's entry (date TBC).
EVENTS COMPLETED SO FAR FOR 2014-15:
FIREWORK FIESTA, CHRISTMAS FAYRE, BAG2SCHOOL, UNIFORM SALE, KINGFISHER AND SWALLOWS CAKE SALE, BUZZ BOOK, MUFTI DAY/BRING A BOTTLE, RECEPTION YEAR WRAPPING NIGHT, WRAPPING MORNING & CHRISTMAS FAYRE.
Thank you!
EVENTS FOR 2015-2016
Christmas Mufti Day - Fri 4th Dec 2015
Christmas Fayre - Sat 5th Dec 2015
PTA Glitz & Sparkle Christmas Party - Fri 11th Dec 2015
Bingo Night - Thurs 4th Feb 2016
Kids Film Night - TBC
Mothering Sunday Assembly/
Easter Bonnet Parade - Thurs 24th Mar 2016
Sponsored Bounce - TBC
School Camping Trip - Fri 10th - Sun 12th June 2016
Farnham Carnival - Sat 25th June 2016
Farnham Charity Bike Ride - Sun 3rd July 2016
Kids End of Year Party - July 2016
Summer Ball - July 2016
To get in touch with the PTA or if you have any great fundraising ideas, we would love to hear from you.
Please contact your us in the playground or via PTASTANDREWS@yahoo.co.uk