Updated: 21.07.17
Robin Class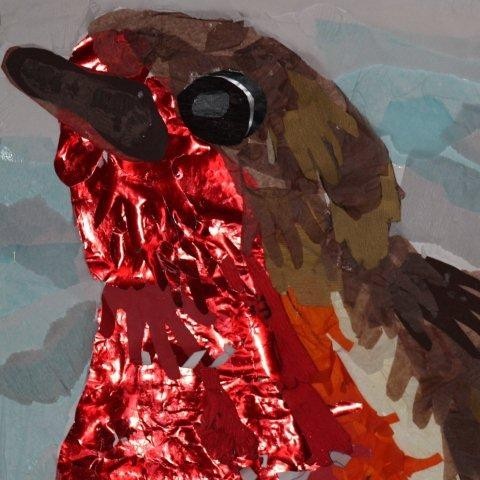 What are the Reception children learning this term?
Please click on picture below to view the All Things Bright and Beautiful Assembly
.
Week Commencing: 17.7.17
I can't believe it is the children's last week in Robin Class! What a wonderful year of learning we have had! This week we will be enjoying watching the Year 2's Leavers Assembly in the church on Monday. On Wednesday we will be looking for signs of Summer as we walk to the allotment and see what is growing there. On Thursday we shall all come together for a final celebration assembly, before the children are released at 1.30pm.
Book bags back on Tuesday, please. The book bags then stay in school, in their new classroom ready for next term.
PE bags will go home on Tuesday after our last PE lesson.
Please bring in a strong carrier bag on Monday, as they will be taking home their learning journals and art folders on Wednesday.
On Thursday the children are welcome to bring in a toy or game to share with friends. Nothing too precious or breakable, please!
Must do at home, please:
Please have a good search for reading books and library books and return them ready for our end of year book audit. Thank you very much!
Messages:
This term we will be inviting two children each week to bring in something for our Friday 'Show and Tell' Session. We will send a letter home the Friday before in the book bag, when it is your child's turn.
Please help your child to choose a toy, souvenir, certificate from a club, book, or something that they have made, that they would like to show to Robin Class. Please support them by discussing what they might like to tell everyone about their special object, and anticipate some of the questions that the children might ask them.
Please don't send in anything valuable or easily broken!
Thank you.
Please have a look at our new learning tools at the bottom of the page of this link: http://www.standrews-infant.surrey.sch.uk/our-learning/learning-tools
.
Additional ways to support your child:
Linked to the traditional tale Jack and the Beanstalk, we will be learning about mini beasts and plants. We will grow our own flowers and vegetables and tend the flowerbeds in the playground. We will discover what helps plants to grow, and will look at simple flowering plant lifecycles. We will name parts of plants and find out the names of some wild flowers and trees. We will use our Eco Garden to look at a variety of mini beasts and learn about the environments that they like.
Ways to support your child could include exploring and talking about aspects of nature when you are out and about in the country side, and walking to school. A visit to the garden centre to look at the variety of plants and to compare what is the same, and what is different about them, would be useful. The children love to be an 'expert' and share their knowledge with the class, so maybe choose a mini beast to research together, and bring their learning back to school.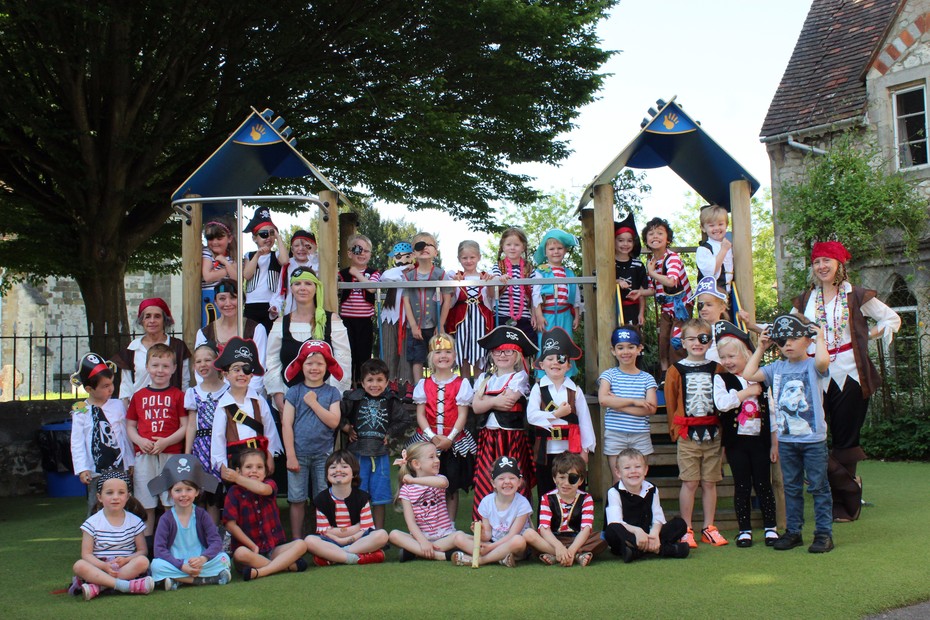 Reception children dressed up as PIRATES
May 2017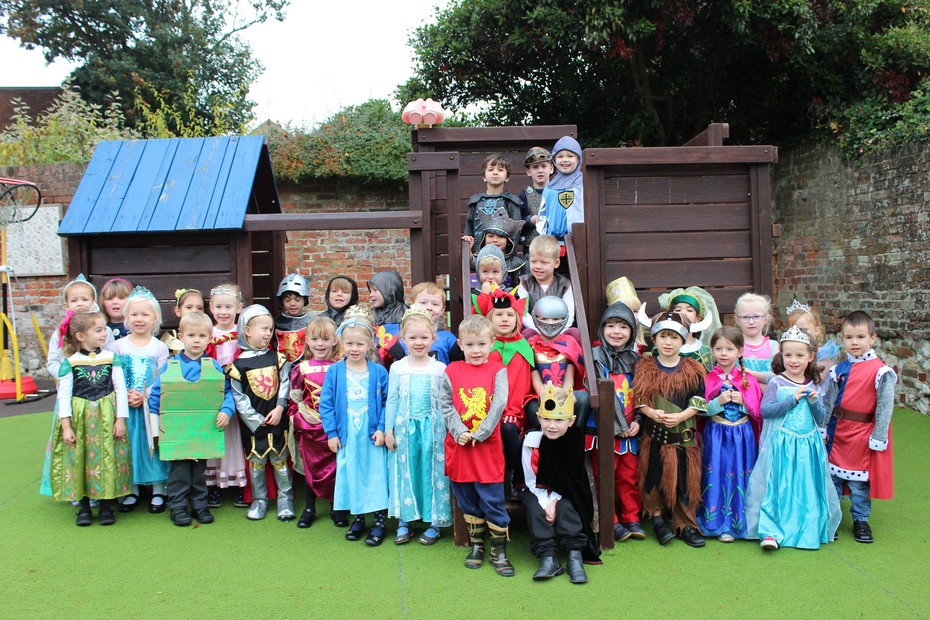 Class Reps:
Charlotte Barnard
Vicky Rowe
Sophia Gunasekara
Marie Wilkins
Visit to local Loch Fyne Restaurant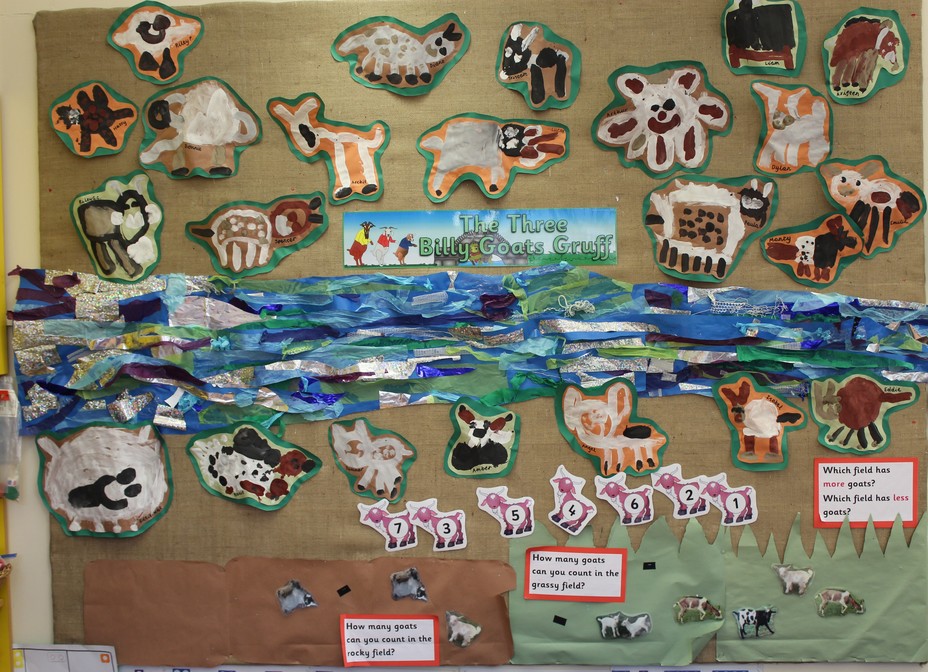 Our 'Three Billy Goats Gruff' display in our classroom.
We had fun making the river collage this week, linking our creative learning to mathematics, as we compared the lengths of our collage materials, using the language long, longer, longest; short, shorter, shortest.
A Creative morning of Learning
25th January 2017
Reception Parents Survey 2016 Results
Millers Ark Animals Visit January 2017
Please click here to view 'Goat Visit Article' in the Farnham Herald
(Please click on goat below to view video)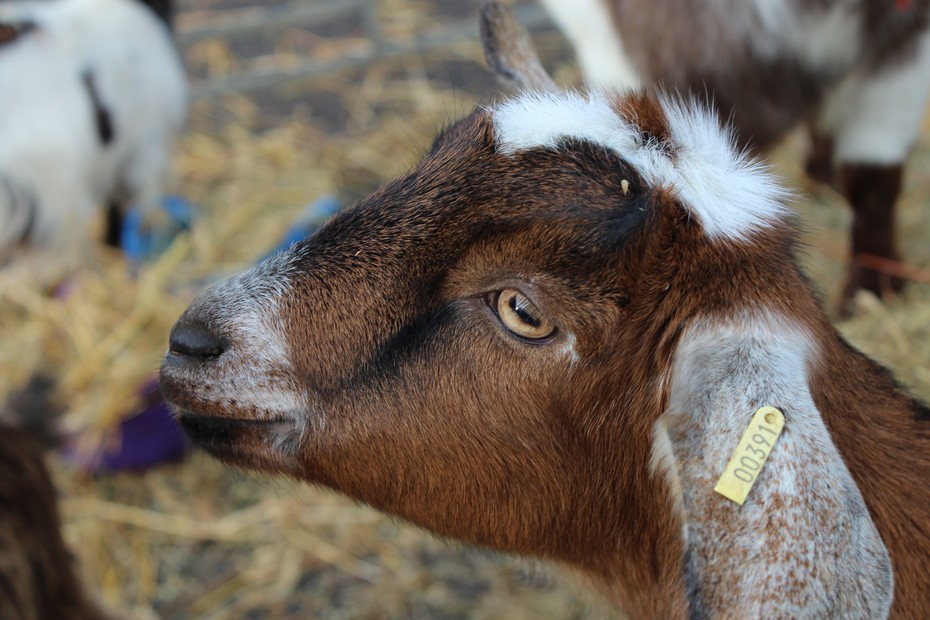 As a part of our Topic, 'Once Upon a Time', the younger children at St Andrew's Infant School have been learning the story of The Three Billy Goats Gruff.
Robin Class children have helped make their role play into the Troll's den under the bridge, where there are lots of opportunities to write, read, explore numbers and find out about minibeasts, whilst having fun acting out the story. But today's focus was on the goats, as five of the Billy Goats' friends arrived from Miller's Ark Farm.
The goats spent the day in a pen full of straw, with hay bales to climb on and plenty to eat and drink, whilst the children gathered round to ask questions that they had prepared. Lucy, the farmer from Miller's Ark, was a font of knowledge and the children found out so much! They were invited into the pen, a few at a time, to get some first-hand experience, stroking and feeding the goats, and noticing lots of details.
Follow up work has already included painting detailed pictures of the goats, and over the next few weeks the children's 'enterprise' focus will be on finding out about the importance of goats in the rural African economy, and raising money to buy a goat for a farmer through Oxfam.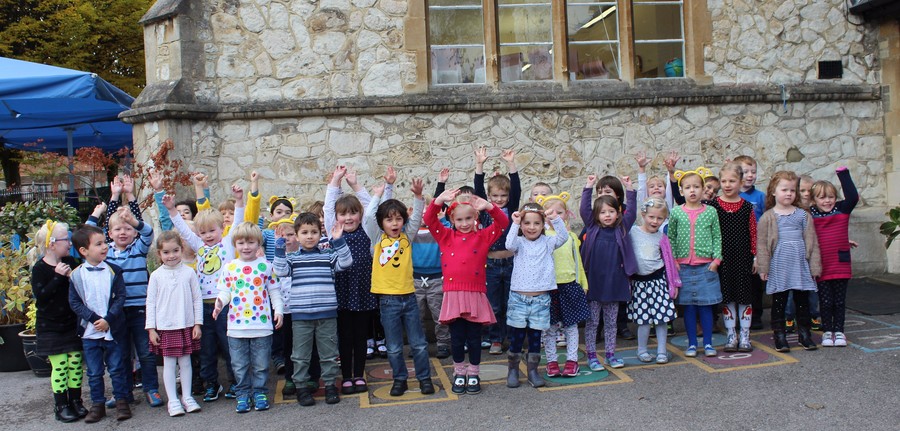 St. Andrew's Reception children enjoying their learning.
(29th September & 3rd October 2016)

Please click on the picture below for a link to the Letters and Sounds website.
Help in Class
It would be lovely if anyone would like to come in to hear individual children read, or to play a learning game with a small group. Please let me know if you would like to do this, and we can arrange a time.